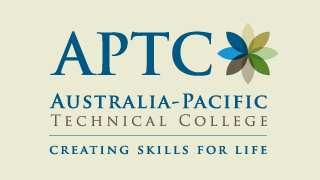 As mentioned in the newsletter, The APTC will be conducting training promotional sessions at the Melanesian Hotel from Monday 21st May to Wednesday 23rd May 2012 (see below).
The Australia Pacific Technical College will be conducting training promotional sessions in Lae from Monday the 21st to Wednesday the 23rd of May. Trevor Birney and Rick Harper will be at the Melanesian Hotel for this period to provide an opportunity for the APTC to promote the training and scholarship opportunities available with the members of the Chamber of Commerce and stakeholders.
On Tuesday evening from 5:30 pm on, the APTC will provide finger foods and refreshments for interested representatives of business community in Lae and present a short overview of the training opportunities available with the College.
All members will be most welcome to attend. Please advise Wendie by email, phone (472 2340) or fax (472 6038).