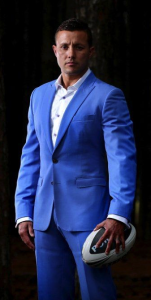 With just six months until the PNG Games, the 2005 Churchill Medal winner Scott Prince is unveiled as an official Games Ambassador.
During an illustrious 15 year playing career the halfback represented Australia, Queensland in State of Origin, as well as the Indigenous All Stars.
He played his club football for the Wests Tigers (whom he led to the 2005 Premiership, winning the Clive Churchill Medal), the Gold Coast Titans, Brisbane Broncos and the North Queensland Cowboys. Rugby League is traditionally one of the most popular sports at the PNG Games, where it is run as a 9's competition. 15 teams have confirmed their participation in this year's Games.
Scott Prince's Ambassadorial role will comprise a number of visits to PNG in the lead-up to the event, as well as attending the Australia-PNG Business Forum in Cairns on May 18th and 19th to promote the Games. He will also feature in television commercials, play a prominent role in the event's social media strategy and assist key sponsors to achieve their objectives.
An equally high-profile Papua New Guinean Ambassador to the Games will be announced soon.
PNG Games Chairman Phil Franklin said, "'Our Games', The PNG Games, are all about Sports Spirit, Sports Respect and Sports Dreams. Scott Prince's magnificent career embodies all three of these values. Sport has a unique ability to unify people from different backgrounds, fostering pride at both national and provincial level. With such a high-profile Ambassador as Scott Prince, the PNG Games is ideally-placed to achieve its objectives in this area. Scott will play an important role in inspiring people across Morobe Province and all of Papua New Guinea to make the most of what is sure to be a thrilling festival of sport," he says.
PNG Games CEO Materua Tamarua said, "We welcome Scott Prince as a Games Ambassador. Scott's involvement will inspire both teams and athletes to achieve their best results and prepare them for a higher level of competition. Rugby League is regarded as the national sport of PNG, and the top Australian NRL players are idolised here. Scott's appointment will focus the attention of all Papua New Guineans on the Games. It's also good news for our commercial partners. His involvement not only raises the wider profile of the event but in some instances will also add value to their participation," he says.
Scott Prince said, "I am both honoured and delighted to become an Ambassador for this very prestigious PNG event. I had a close association with the people of PNG during my career and know how passionate they are about Rugby League, and sport in general," he says.
For all enquiries, including corporate sponsorship, please contact authorised PNG Games representative, Terry Johnston from Brand Ambassadors Pty Ltd: tj@brandambassadors.net.au or Mobile +61 419 757 896.
About the PNG Games:
The concept of the PNG Games was first developed and introduced by the PNG Sports Foundation in 2003. The event is held every two years with a mission to promote and develop national unity and provincial pride through participation in sports. It is administered by the PNG Games Host Organising Committee and is governed by the PNG Games Charter. The 6th edition of the event will attract over 10,000 sports people from 22 Provinces to participate in 28 different sports in 19 different venues. The slogan for the 2014 event is "Bilong Yumi"- "Our Games". The Games will be staged in Morobe Province and leave a legacy of infrastructure for Lae City, providing pathways for grassroots athletes to develop their skills towards professionalism. Indeed the event has a track record of uncovering talent, such as the current Pacific Games women's 100 meters champion, Ms. Toea Wisil. Given Lae's accessibility to many coastal and highland provinces and that the Morobe Province School Year will have finished, it is expected that large numbers of spectators will travel to Lae for the Games. The Host Organising Committee seeks the support of business in PNG to make the event as successful as it can be.